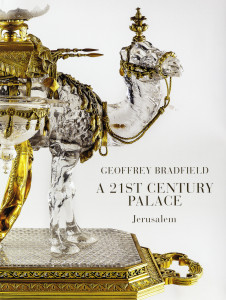 This captivating book, the second in a series christened A 21st Century Palace, offers readers a transporting virtual tour through one exceptionally dazzling palace. In this volume, we find ourselves in Jerusalem. Few places on Earth have exuded more mystery power than this deified ancient city. And even fewer designers possess the worldliness talent to bring that mystery power into the third dimension in ways that both consider its many millennia of astonishing history also telegraph a modernity as thoroughly fresh modern as the current moment.
"That Bradfield takes breathtaking, albeit educated, risks that would daunt another designer is a testament to his confidence maturity," says the Parisian gallerist Jean-Gabriel Mitter. "It is unbelievably audacious to pair a precious, yet decorative, Claude Lalanne chelier with a Peter Kogler table that utilizes computer technology to create what is really state-of-the-art functional sculpture," notes Mitter of one such daring juxtaposition. "They were not created in the same spirit, but in the end Geoffrey intuitively understood there was something essentially baroque about both of them. After decades of observing Bradfield championing artists such as the Lalannes prior to their becoming voraciously collected by wealthy purveyors of taste," says Mitter, "His roster of clients has become more more international, he comms more more authority." Which is why Bradfield finds himself now at the apex of his career. In his Foreword to this book, the Honorable John L. Loeb, former American Ambassador to Denmark, declares "Bradfield's rare talent has propelled him into the upper echelon of design – places him amongst the few designers working in the world today who are truly global."
By Geoffrey Bradfield
With Roric Tobin
Architect : Don Goldstein
Written by : Jorge S. Arango
Foreword by : The Hon. John L. Loeb, Jr.
Photography : Sargent Photography
(Below are some selected spreads from A 21st CENTURY PALACE.)
Click here to go back to Publications.